We all know first impressions are important, and your CV is more often than not going to be the first thing potential employers will see, so it's essential that they're done right. To make the best impression you can, you'll need to convey the right information and present it well. Given how important your CV is, we've created this guide to help give you the best chance of landing an interview and starting your career as a nursery nurse!
Top nursery nurse CV writing tips
When you're looking at a position as a nursery nurse, it's crucial that your CV is high quality and reflects your passion for the role. An effective CV is well presented, displays relevant skills and experience, and gives your potential employers an insight into who you are. 
It's important that you use grammar correctly, that your writing is concise but informative, and any non-relevant information is left out. Not following these rules could mean your application is rejected, since employers could see it as too unprofessional. Our nursery nurse CV writing tips are here to help you to land that position you've been waiting for!
1. Grab their attention with a personal profile
Your personal profile is the first section of your CV that employers will read to find out more about you. This is your chance to introduce yourself, sell your skills and outline your characteristics. Personal profiles are a perfect way to persuade recruiters, as it tells them straight off why they should hire you. 
This section can include relevant experience and achievements, but it's important to tailor this to the job description and what's prioritised there to show your enthusiasm for the role and that you're a serious candidate for the position who has what they're looking for. 
There are no set rules on the length of this section but you should aim for a few short sentences and no longer than 100 words. This way you can keep it concise and effectively highlight who you are to employers without giving them too much information, increasing the chances of them reading through the rest of your CV and considering you for the job. Make sure you're putting your best foot forward and presenting the things that you think make yourself stand out.
Talk about yourself (when it's relevant)
Though your CV should be more focused on your skills and work experience rather than your personality, it can be good to include some relevant personal information such as your hobbies in your CV, but what counts as relevant will vary from job to job.
There should be a section in your CV that outlines your relevant skills. This makes it easy for the employer to read and more easily determine if you meet the requirements of the role. You should format this section using bullet points so that it's simple and easy for employers to read. Make sure to include relevant skills that you think make you a good candidate for the position. Such as:
Maintaining a child-friendly, clean, and tidy environment for both children and co-workers.
Managing children and teaching important life skills, including social skills and food hygiene
Leading and organising daily activities for children
Ensuring that the children are engaged and happy, and that all their needs are being met
If you're struggling to think of skills that are relevant to the job then it's a good idea to check vacancy advertisements for some ideas. Start off by rereading the job you're applying for and what might be useful to mention, but if you're still stuck then take a look at other similar job postings. You should also think about which of your skills have been helpful in any of your past work or study.
It's important when talking about your skills to try and include both hard and soft skills, so that you can show some variety. Hard skills are the skills you gain through experience, knowledge, or learning such as through a qualification or after undertaking training. Soft skills refer to your personal traits and habits that determine how you work, like being an effective communicator, able to work in a team, or organisational skills.
3. Outline your experience
You should outline any past experiences in either work or volunteer positions that are relevant to becoming a forest school leader and can best show your potential employer the value that you'd be bringing to the position. 
The most valuable experience you can have as a nursery nurse is working in either the same position before or as a nursery assistant, you should present this work experience front and centre. Give details of where you worked, including the dates you started and finished your employment (these don't have to be specific, usually the month and year are fine), alongside your key responsibilities within the role. If you have a lot of relevant experience then list it from most to least recent. Employers will want to know more of what you've been doing recently rather than years ago, as it's more relevant to the jobs you'll be applying for now.
If you have no relevant experience then you should include any previous employment you've been in and the transferable skills you gained that will be useful in the role. Try and think about any similarities between your previous positions and the one you're applying for. Is there anything listed on the job advertisement that sounds familiar?
4. List your education and qualifications
Making sure you mention your education clearly on your CV is very important, as it will show that you have the knowledge and qualifications needed for the job. When listing your qualifications you should prioritise two things: the level of the qualification (is it a degree or a GCSE?) and when you received it. Much like your experience, it's best to list your qualifications from your most to least recent.
When you're listing your qualifications make sure you include the name of the institution, the dates you attended them from, the subject(s) you studied or name of the qualification, as well as the final grade you received. If there's a particular aspect of your study that is very relevant to the position you're applying to then it would be a good idea to briefly mention it at some point.
Include your certificates and other qualifications
Don't think you just need to include your experiences from school or university, things like standalone courses that award you with a certificate or diploma are more than relevant, especially if they cover a subject that's relevant to your work. Add your certificates in the same way you'd add your other qualifications, providing any additional information as needed.
5. Remember to include your contact details
It might seem obvious, but having your contact details clearly signposted on your CV is extremely important, without them potential employers may have no way to contact you. You should include your up-to-date email, phone number, and address somewhere near the top of your CV so that they don't get lost amongst the rest of your information.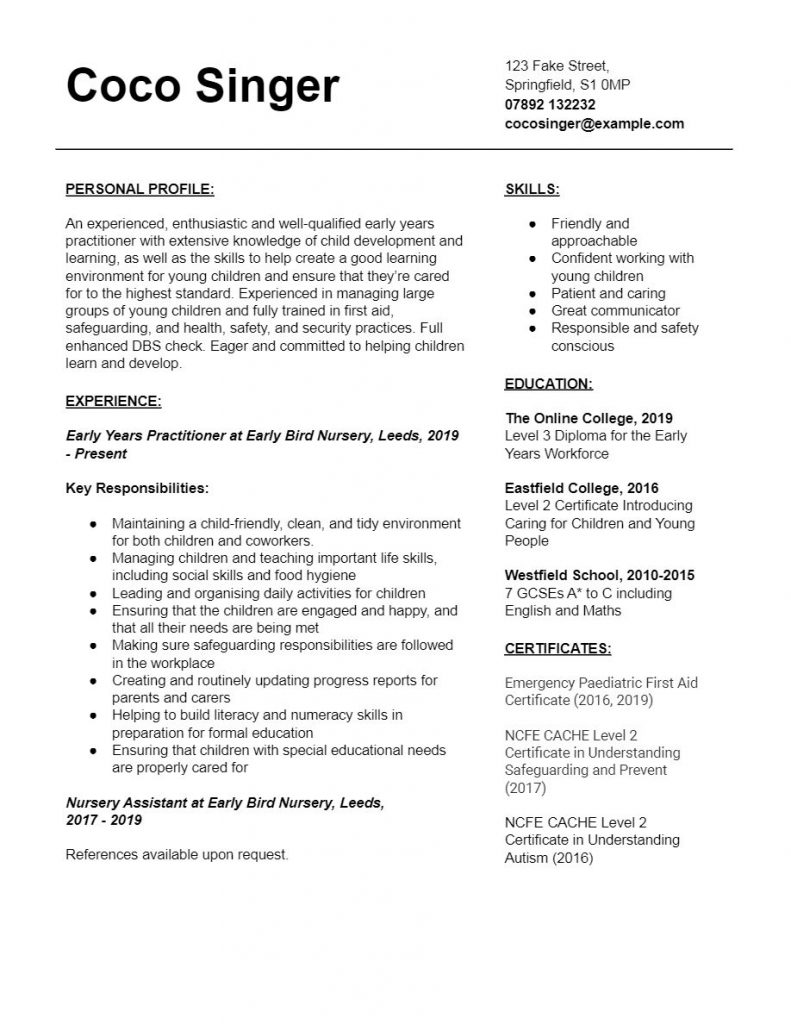 Download our CV Template and Make Yours Today!
Struggling to put your CV together? Download our free CV template and get a head start on making a fantastic CV. Make sure to follow the rest of our tips and learn how to land that job you've always wanted!